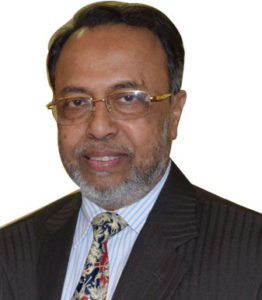 Prof. Dr. Sk. M. A. Mannaf
Managing Director
Harun Eye Foundation Ltd.
Biography
Prof. Sk. M.A. Mannaf, Managing Director of Harun Eye Foundation Ltd.  & Chief Consultant of Harun EyeFoundation Hospital, Dhaka. He was born in 1952 & graduated MBBS from Mymensingh Medical College in 1978. Later he obtained FCPS in ophthalmology from BCPS in 1984. He has done  Fellowship in Glaucoma from Wills Eye Hospital, Philladelphia, USA in 1986 where he trained under Prof. George L. Speath & Dr. Richard P. Wilson. He worked in BIRDEM Hospital for sixteen years and finally he was the Professor and Head of the department of ophthalmology at BIRDEM Hospital.
Before that he worked at Mymensingh Medical College and Hospital, Jessore General Hospital, Chittagong Medical College Hospital and National Institute of Ophthalmology and Hospital, Dhaka in different time.
He is Ex-President of Bangladesh Academy of Ophthalmology, advisor & Ex-President of Bangladesh Glaucoma Society, Ex Secretary General of Ophthalmological Society of Bangladesh. Prof. Sk. M.A. Mannaf has  67 publications in national & international journals. He has teaching experience of 27 years in under graduate and post graduate government  and non- government  organizations. He is a glaucoma specialist & has special interest on Medical Retina. He attended many conferences in National& International level.